Summer is coming and what sounds better than a fresh, healthy pizza! Loaded with delicious summer veggies, this pizza will have you reaching for seconds guilt-free!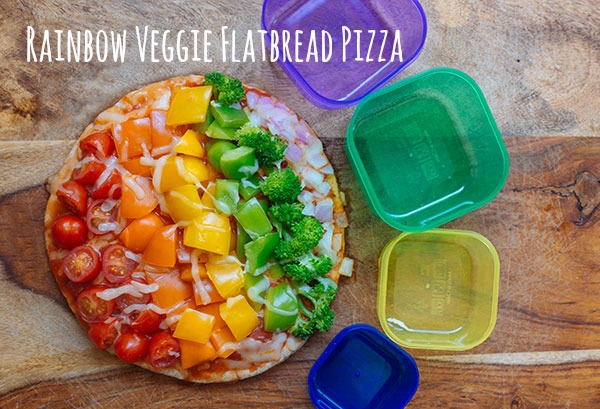 Rainbow Veggie Flatbread Pizza
Total Time: 23 min.
Prep Time: 15 min.
Cooking Time: 8 min.
Yield: 1 serving
Containers:
1 1/2 Green, 2 Yellow, 1/2 Purple, 1 Blue
Ingredients:
1 6½-inch whole wheat pita (or whole wheat flatbread)
¼ cup marinara sauce, no sugar added
¼ cup shredded mozzarella cheese
½ cup halved cherry tomatoes
¼ cup chopped orange bell pepper
¼ cup chopped yellow bell pepper
3 Tbsp. chopped green bell pepper
3 Tbsp. chopped broccoli florets
2 Tbsp. chopped red onion
Preparation:
1. Preheat oven to 350º F.
2. Place pita on a large baking sheet.
3. Spread marinara sauce evenly on pita. Top evenly with cheese.
4. Starting at the edge of the pita, place an approximately 1½-inch circle of tomatoes around the edge of the whole pita. Continue with a 1-inch circle each orange bell pepper, yellow bell pepper, green bell pepper, and broccoli. Make sure each vegetable is touching the previous one. Place onions in the middle.
5. Bake for 5 to 8 minutes, or until cheese is melted.
6. Slice each pita into 4 slices. Serve immediately.
Tip: Look for a marinara sauce that has an ingredient list that does not contain artificial sweeteners, additives, or preservatives.