Dinner Meal Planning for week 10/9-13
---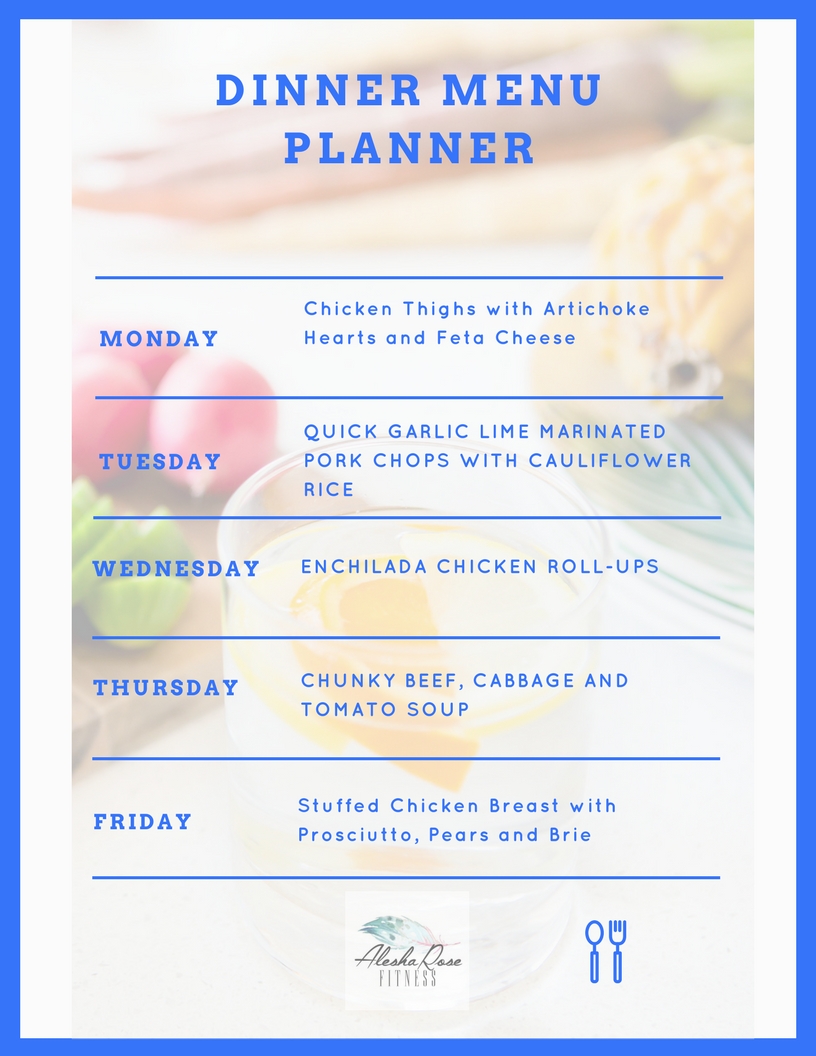 Do you find you are asking around, "What do you guys want for dinner tonight?" I know I do! And it normally ends up
being something not healthy. Since I started planning our dinners, (and not just come up with something on the fly), my husband and I are both losing weight, the kids aren't eating snack foods, and we are able to eat together as a family at the same time each night. Thats what it is really about right?! The family time!
You can use these recipes each day or spread out throughout the week and weekend and do left overs on the other days if you have any!
These recipes are all low carb (not vegan or vegetarian because I don't eat that way) and from one of my favorite websites, Skinny Taste.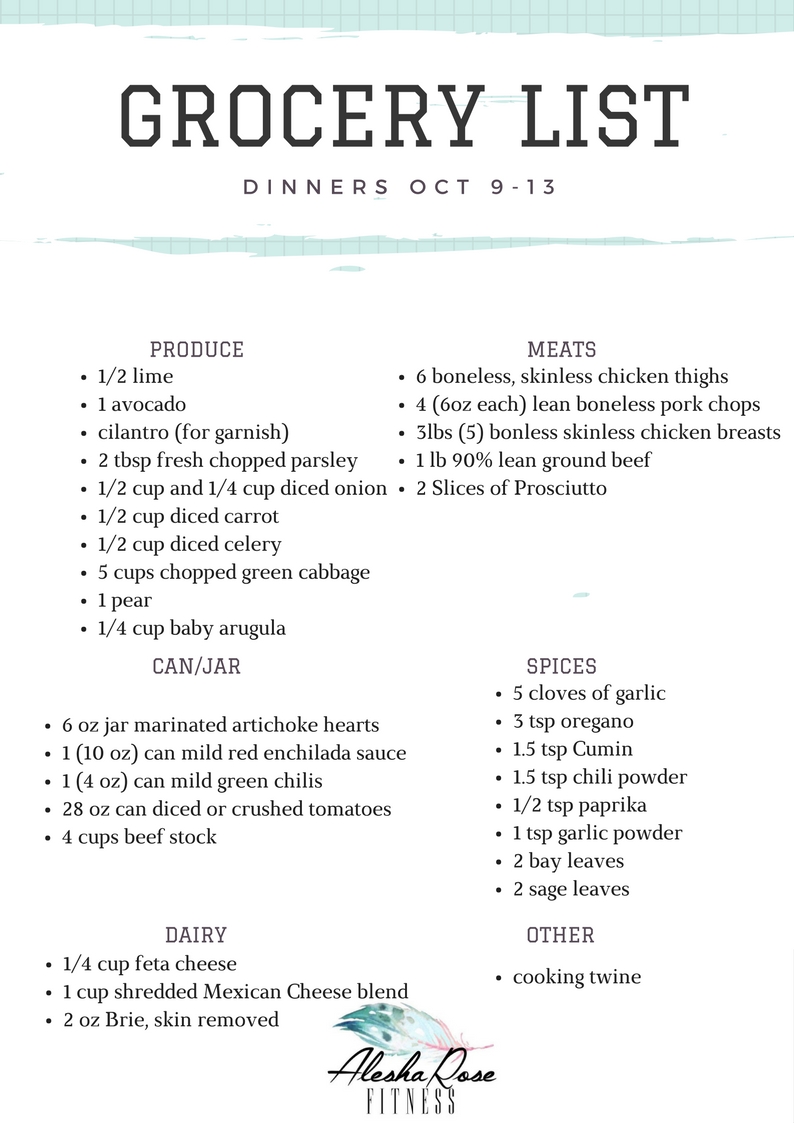 CHICKEN THIGHS WITH ARTICHOKE HEARTS AND FETA CHEESE
Chicken Thighs with Artichoke Hearts and Feta Cheese is made with just a few ingredients and is ready in less than 30 minutes! Perfect with a salad on the side for a quick, weeknight meal!
INGREDIENTS:
6 skinless boneless chicken thighs, excess fat removed
6 oz jar marinated artichoke hearts
1 clove garlic, crushed
1 tsp oregano
salt and fresh pepper
1/4 cup feta cheese
2 tbsp fresh chopped parsley
lemon juice, optional
DIRECTIONS:
Combine artichoke hearts along with liquid and chicken and let it marinade about 20 minutes.
After it's marinated, drain all liquid.
Add garlic, oregano, salt and pepper.
Broil on low about 6 inches from the flame for about 10 minutes or until golden brown, turn chicken and cook an additional 8-10 minutes and chicken is fully cooked.
Top chicken with feta and broil an additional minute.
Remove from oven and top with fresh parsley. Squeeze with lemon juice, if desired!
NUTRITION INFORMATION
Yield: 6 servings, Serving Size: 1 medium thigh with artichokes
Amount Per Serving:
Smart Points: 3
Points +: 3
Calories: 107.5
Total Fat: 3g
Saturated Fat: g
Cholesterol: mg
Sodium: mg
Carbohydrates: 4g
Fiber: 1.5g
Sugar: g
Protein: 16.5g
---
QUICK GARLIC LIME MARINATED PORK CHOPS
These garlic lime pork chops are so EASY to make, and they only take 10 minutes to cook. I usually make them in my broiler but they are also great on the grill, they come out juicy and SO flavorful!
INGREDIENTS:
4 (6 oz each) lean boneless pork chops
4 cloves garlic, crushed
1/2 tsp cumin
1/2 tsp chili powder
1/2 tsp paprika
1/2 lime, juice of
1 tsp lime zest
1 teaspoon kosher salt and fresh pepper
DIRECTIONS:
Trim fat off pork. In a large bowl season pork with garlic, cumin, chili powder, paprika, salt and pepper. Squeeze lime juice and some zest from the lime and let it marinade at least 20 minutes. To broil: line broiler pan with foil for easy clean up. Place pork chops on the broiler pan and broil about 4-5 minutes on each side or until browned. To grill, grill over medium-high 4 to 5 minutes on each side. Add some cauliflower rice as a side dish or what ever you prefer as a side.
NUTRITION INFORMATION
Yield: 4 Servings, Serving Size: 1 chop
Amount Per Serving:
Smart Points: 5
Points +: 5
Calories: 224
Total Fat: 6g
Saturated Fat: g
Cholesterol: 112mg
Sodium: 368mg
Carbohydrates: 1.8g
Fiber: 0g
Sugar: 0g
Protein: 38g
---
ENCHILADA CHICKEN ROLL-UPS
These Enchilada Chicken Roll-Ups give you authentic enchilada flavor without all the work, calories or fat.  And you won't even miss the tortillas!
INGREDIENTS:
1 teaspoon cumin
2 teaspoon dried oregano
1 teaspoon garlic powder
1/2 teaspoon chili powder
1 teaspoon Kosher salt
Freshly ground black pepper, to taste
Cooking spray
1 (10-ounce) can mild red enchilada sauce
1 ½ pounds (3) boneless, skinless chicken breasts, cut in half lengthwise
1 (4-ounce) can mild green chilis
1 cup reduced fat shredded Mexican cheese blend
1 large (6-ounce) avocado, cubed
Chopped cilantro (for garnish)
DIRECTIONS:
Preheat oven to 375 degrees.
In a small bowl, combine the cumin, oregano, garlic powder, chili powder, salt and pepper.  Rub on both sides of each chicken piece.
Spray a small (8×6-ish) oval or rectangular baking dish with cooking spray and pour a thin layer of enchilada sauce on the bottom of the dish.
Lay chicken, cut side up on a work surface. Top each piece, in the center, with about 2 teaspoons chilis and 1 1/2 tablespoons cheese.
Roll each one up and set them seam side down in the baking dish.  Top with remaining sauce, cheese and chilis.
Cover with foil and bake for 30 minutes.  Remove foil and continue to bake 10-15 minutes more, or until chicken is cooked through.
Top each chicken roll-up with a few avocado pieces and cilantro and serve.
To freeze, transfer to a freezer safe container once cooked and cool for up to 3 months.
NUTRITION INFORMATION
Yield: 6 servings, Serving Size: 1 roll-up with 1 ounce avocado
Amount Per Serving:
Smart Points: 6
Points +:
Calories: 261
Total Fat: 11.5g
Saturated Fat: 3.5g
Cholesterol: 83mg
Sodium: 658mg
Carbohydrates: 8g
Fiber: 3g
Sugar: 1g
Protein: 31g
---
CHUNKY BEEF, CABBAGE AND TOMATO SOUP (INSTANT POT OR STOVE TOP)
Ground beef, cabbage, vegetables and tomatoes, this is the perfect soup to clean out your fridge! And it's super easy to make.
INGREDIENTS:
1 lb 90% lean ground beef
1-1/2 teaspoon kosher salt
1/2 cup diced onion
1/2 cup diced celery
1/2 cup diced carrot
28 oz can diced or crushed tomatoes
5 cups chopped green cabbage
4 cups beef stock (canned* or homemade)
2 bay leaves
DIRECTIONS:
Assuming your electric pressure cooker has a saute option, or if using the Instant Pot, press the saute button and let the pressure cooker get very hot, when hot spray with oil, add the ground beef and salt and cook until browned breaking the meat up into small pieces as it cooks, 3 to 4 minutes.
When browned, add the onion, celery and carrots and saute 4 to 5 minutes.
Add the tomatoes, cabbage, beef stock and bay leaves, lock the lid cook high pressure 20 minutes.
Let the steam release naturally. Remove bay leaves and serve. Makes 11 cups.
To cook on the stove top:
Follow the same directions as above in a large pot or Dutch oven, cook covered low 40 minutes.
NUTRITION INFORMATION
Yield: 7 servings, Serving Size: 1 1/2 cups
Amount Per Serving:
Smart Points: 3
Points +: 4
Calories: 181
Total Fat: 6g
Saturated Fat: g
Cholesterol: 40mg
Sodium: 592mg
Carbohydrates: 14g
Fiber: 2g
Sugar: 4.5g
Protein: 15.5g
---
STUFFED CHICKEN BREAST WITH PROSCIUTTO, PEARS AND BRIE
Roasted stuffed chicken breast is the perfect Fall dish, filled with a savory-sweet stuffing of prosciutto, pears, sage, brie and arugula. It's delicious with a salad on the side, but also can be served with roasted butternut squash or brussels sprouts to make it a meal. It also happens to be naturally gluten-free and low-carb.
INGREDIENTS:
2 large boneless, skinless chicken breasts (16 oz total)
Kosher salt and pepper, to taste
1 teaspoon olive oil
1/4 cup chopped onion
2 slices prosciutto, chopped
2 sage leaves, chopped
1 medium pear, peeled and diced into 1/2-inch pieces
2 oz Brie, skin removed, divided
1/4 cup baby arugula
cooking spray
cooking twine
DIRECTIONS:
Preheat the oven to 375°F degrees.
Slice a pocket into the side of the chicken breast lengthwise to create a pocket for stuffing.
Season the inside and outside of the chicken with salt and pepper.
Heat a skillet of medium heat, add the oil, onions and proscuitto; saute until golden, 3 to 4 minutes. Add the sage and pear, season with a pinch of salt and cook 3 to 4 minutes or until translucent.
Remove from heat, and add the arugula. Set aside to cool a few minutes.
Divide the stuffing and fill each breast with the pear filling and brie.  Cut cooking twine and tie the chicken breast closed with 3 pieces for each.
Heat an oven-proof skillet over medium-high heat and lightly spray with cooking spray. Carefully sear the outside of the chicken on all sides except where the stuffing is until golden brown.
Set the chicken cut side up and place the skillet in the oven (if you don't have an oven-proof skillet place in a baking pan).  Cover the skillet tightly with foil and cook 23 to 25 minutes, or until the chicken is cooked through.
To serve, cut each breast in half and serve.
NUTRITION INFORMATION
Yield: 4 servings, Serving Size: 1/2 stuffed breast
Amount Per Serving:
Smart Points: 5
Points +: 6
Calories: 233
Total Fat: 9g
Saturated Fat: g
Cholesterol: 97mg
Sodium: 316mg
Carbohydrates: 6g
Fiber: 1g
Sugar: 4g
Protein: 31g