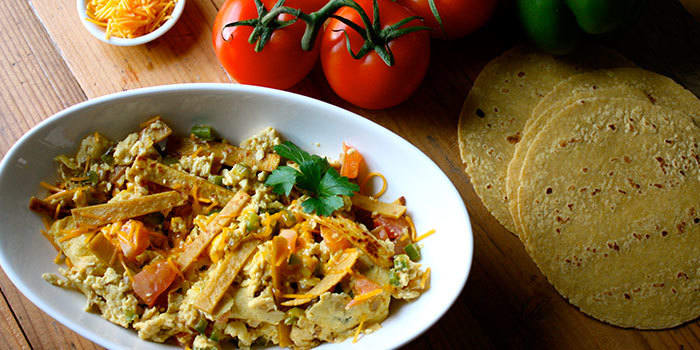 This version of the traditional Tex-Mex breakfast scramble with crunchy tortilla strips, onions, tomatoes, and peppers has only 229 calories per serving, and the servings are hearty. Perfect for brunch!
Total Time: 29 min.
Prep Time: 10 min.
Cooking Time: 19 min.
Yield: 2 servings
Ingredients:
2 large eggs
4 large egg whites
1½ tsp. olive oil
2 (6-inch) corn tortillas, cut into strips
¼ medium onion,chopped
¼ medium bell pepper, chopped
¼ medium tomato, chopped
½ oz. shredded cheddar cheese (2 Tbsp.)
Preparation:
1. Combine eggs and egg whites in a medium bowl; whisk to blend. Set aside.
2. Heat oil in medium nonstick skillet over medium-high heat.
3. Add tortillas; cook, stirring occasionally, for 3 to 4 minutes, or until crisp. Remove tortillas from pan.
4. Add onion and bell pepper; cook, stirring frequently, for 4 to 5 minutes, or until onion is translucent.
5. Add tomato; cook for 3 to 4 minutes.
6. Add egg mixture; cook, stirring frequently, for 3 to 4 minutes, or until eggs are almost set.
7. Add tortillas and cheese; cook, for 1 to 2 minutes or until cheese is melted.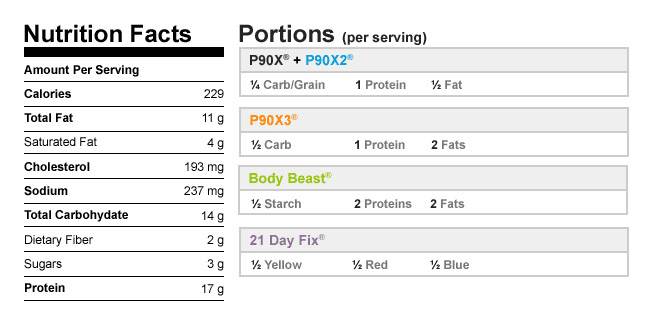 Recipe Adapted from Beachbody.com