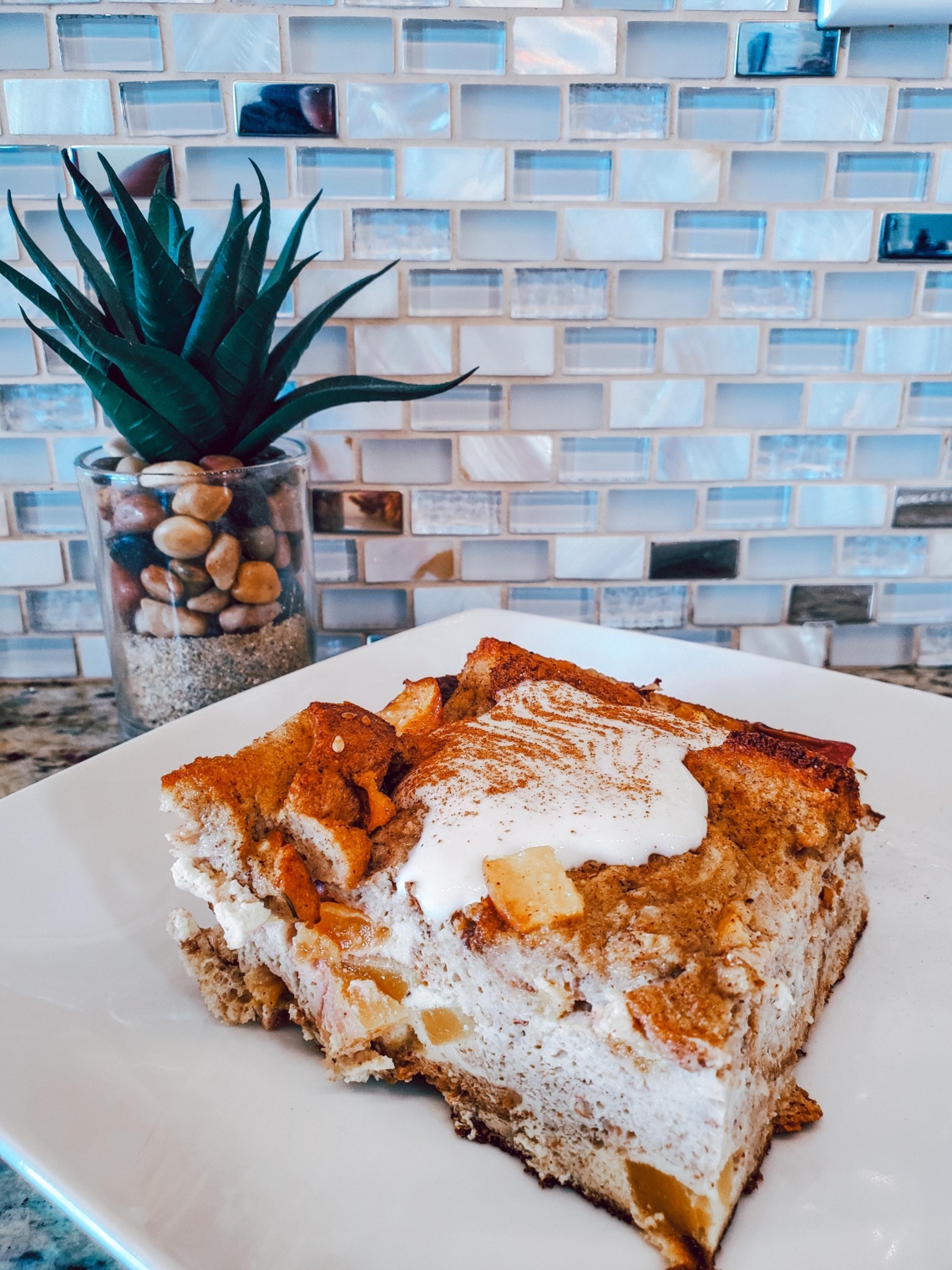 Peach Bread Pudding with Maple "whipped cream"
Enjoy this bread pudding for breakfast! Yes! You heard me right…. this makes a perfect breakfast option that is fueled with fiber and protein and part of my mindset nutrition program. Make sure to tag me on social when you make it! @alesharose
(MAKES 4 SERVINGS)
TOTAL TIME: 50 MIN. + 30 MIN. (OR UP TO OVERNIGHT)
PREP TIME: 5 MIN.
COOKING TIME: 45 MIN.
INGREDIENTS:
Nonstick cooking spray

6 large eggs

2 egg whites (approx. ¼ cup)

1 cup unsweetened almond milk

2 tsp. pure vanilla extract

4 slices whole-grain bread, cubed

2 medium peaches, chopped

1 tsp. liquid monk fruit sweetener (or equivalent; optional)

½ tsp. ground cinnamon

¼ tsp. ground nutmeg

¾ cup reduced-fat (0 or 2%) plain Greek yogurt

1 Tbsp. + 1 tsp. pure maple syrup
DIRECTIONS:
1. Lightly coat 8 x 8-inch baking dish with spray; set aside.
2. Add eggs, egg whites, almond milk, and extract to a large mixing bowl; whisk to combine. Add bread, peaches, sweetener (if desired), cinnamon, and nutmeg; mix to combine. Pour bread pudding mixture into prepared baking dish. Let sit for at least 30 minutes for bread to absorb liquid, or cover and refrigerate overnight.
3. Preheat oven to 350° F. Bake for 35 to 45 minutes, until no liquid is visible on the surface.
4. While bread pudding bakes, add yogurt and maple syrup to a small mixing bowl; stir to combine.
5. Cut bread pudding into four equal pieces; top evenly with yogurt mixture. Serve immediately