Now that summer is well underway, I find myself preparing more and more salads as the temperature gets hotter and hotter! This salad is a fresh twist that just tastes of summertime!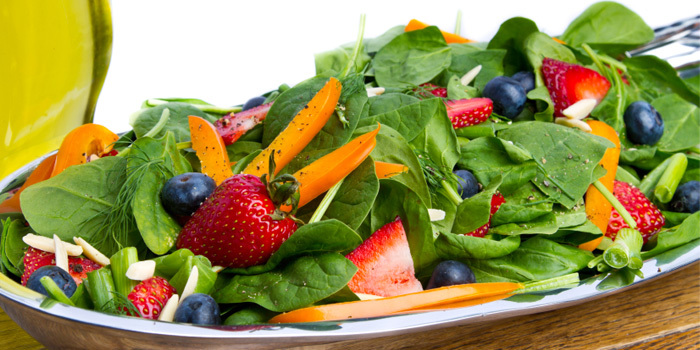 Ingredients:
8 cups fresh baby spinach
1 medium orange bell pepper, thinly sliced
½ cup fresh blueberries
½ cup sliced fresh strawberries
¼ cup slivered almonds
8 Tbsp. Strawberry Vinaigrette (recipe below)
Preparation:
1. Combine spinach, bell pepper, blueberries, strawberries, and almonds in a large serving bowl; toss gently to blend.
2. Drizzle salad evenly with Strawberry Vinaigrette; toss gently to blend.
3. Serve immediately.
Strawberry Vinegrette 
Ingredients:
2 Tbsp. apple cider vinegar (or white balsamic vinegar)
2 Tbsp. extra-virgin olive oil
1 Tbsp. raw honey
¼ tsp. sea salt
¼ tsp. ground black pepper
1⅓ cups sliced fresh strawberries
Preparation:
1. Place vinegar, oil, honey, salt, pepper, and strawberries in a blender; cover. Blend until smooth.