Memorial Day weekend has always seemed like the unofficial kick off to summer! So with that behind us, I thought it would be fun to feature recipes from the grill all week. There's nothing I love more than grilling out!
Today's recipe is easy, delicious and SO flavorful. The secret is in the cedar plank! It brings out the most delicious flavors and keeps the fish from sticking to the grill. Don't be intimidated! This is an easy, healthy dinner option!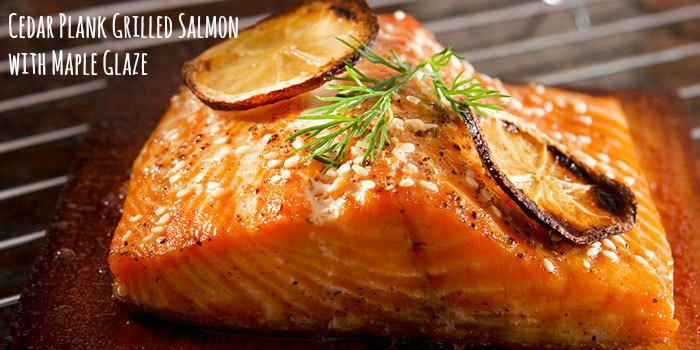 Total Time: 4 hrs. 50 min.
Prep Time: 15 min.
Cooking Time: 35 min.
Yield: 6 servings
Red – 1 Yellow – 1   1/2tsp
Ingredients:
1 untreated cedar plank (about 17-by-10-1/2 in.)
2 Tbsp. water
¼ cup pure maple syrup
2-inch slice fresh ginger, peeled, finely chopped
¼ cup fresh lemon juice
3 Tbsp. reduced-sodium soy sauce
2 cloves garlic, finely chopped
Ground black pepper (to taste; optional)
1 Tbsp. olive oil
1 bunch green onions
2½ lbs. raw center-cut salmon fillet with skin
Preparation:
1. Soak plank in water for 3 hours before grilling.
2. Bring water, maple syrup, ginger, lemon juice, soy sauce, garlic, and pepper (if desired) to a boil in medium saucepan over medium-high heat. Reduce heat to medium-low; gently boil, stirring frequently, for 10 to 15 minutes, or until reduced to about ½ cup. Let cool. (Maple glaze may be made 2 days ahead of time and chilled, covered. Bring maple glaze to room temperature before using.)
3. Preheat grill on high.
4. Lightly cover the cedar plank with oil. Arrange green onions in one layer on plank to form a bed for salmon.
5. Place the salmon skin-side down on the cedar plank.
6. Drizzle with half of maple glaze, reserving other half of glaze to serve with grilled salmon.
7. Grill, covered, without turning, for about 20 minutes, or until salmon flakes easily when tested with a fork.
8. Serve salmon with reserved maple glaze.
Recipe adapted from teamBeachbody.com