Heaven!!!! Shakeology cookies that are super simple to make and an easy snack for when you are on the go.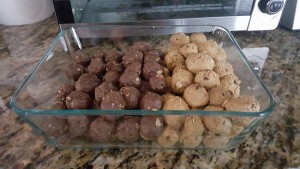 What you need:
1 cup shakeology
1 cup peanut butter
 1 cup oats
1/2 cup of agave or honey (or as needed to keep it together)
Optional: mini chocolate chips, dried fruit
Mix all ingredients together in a bowl with a spoon or fingers (I like to use my kitchen aide mixer). Roll into small balls and refrigerate.
Bon appetit.